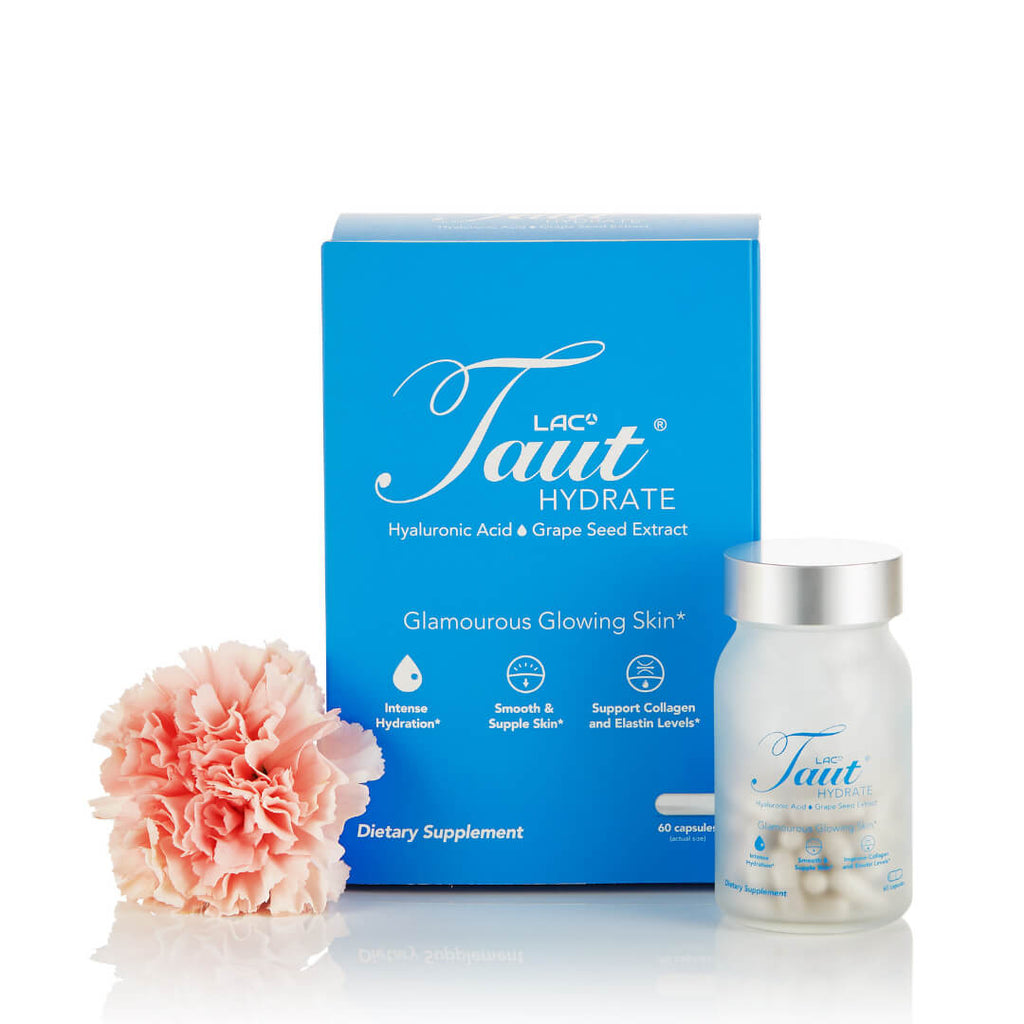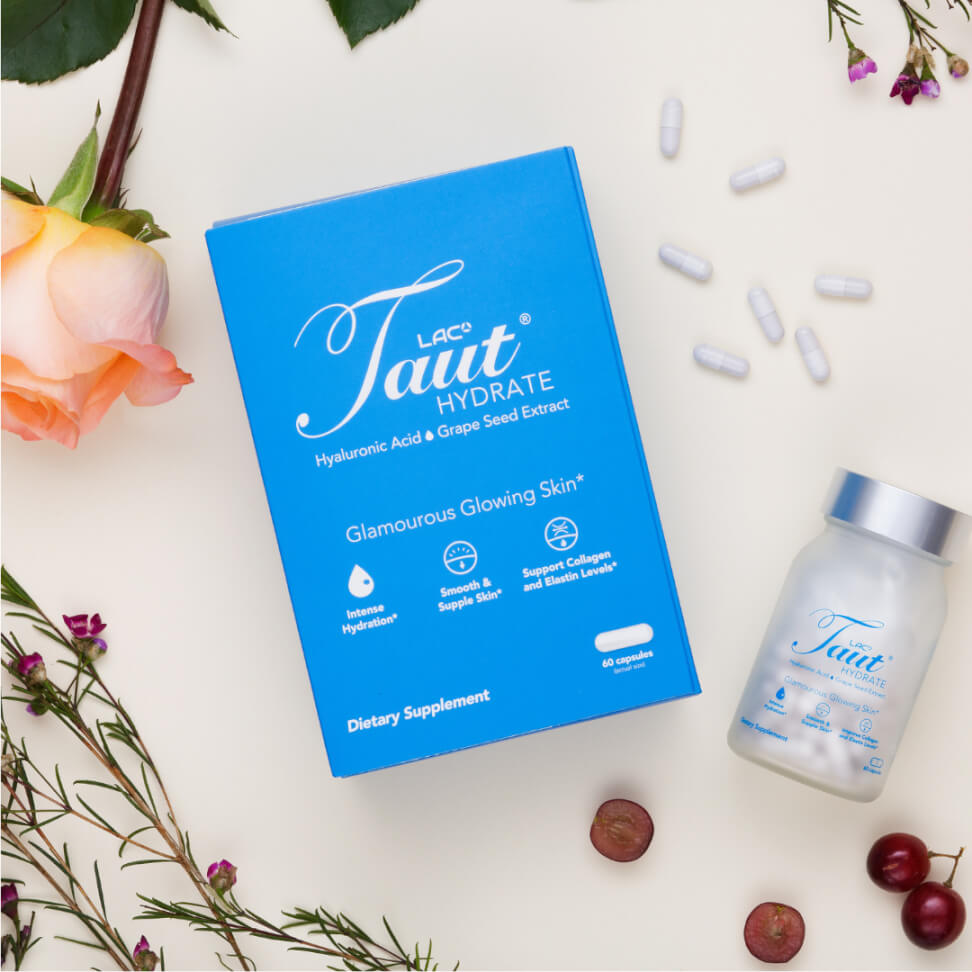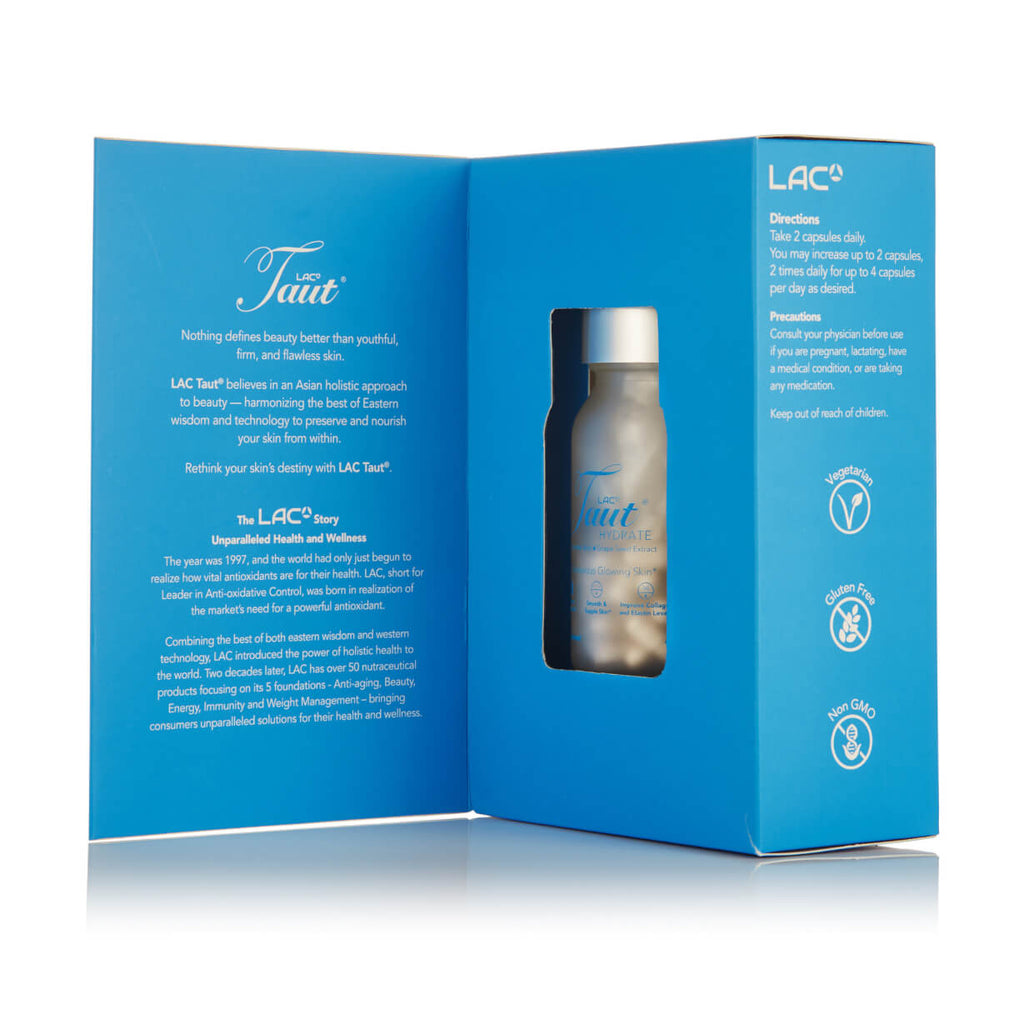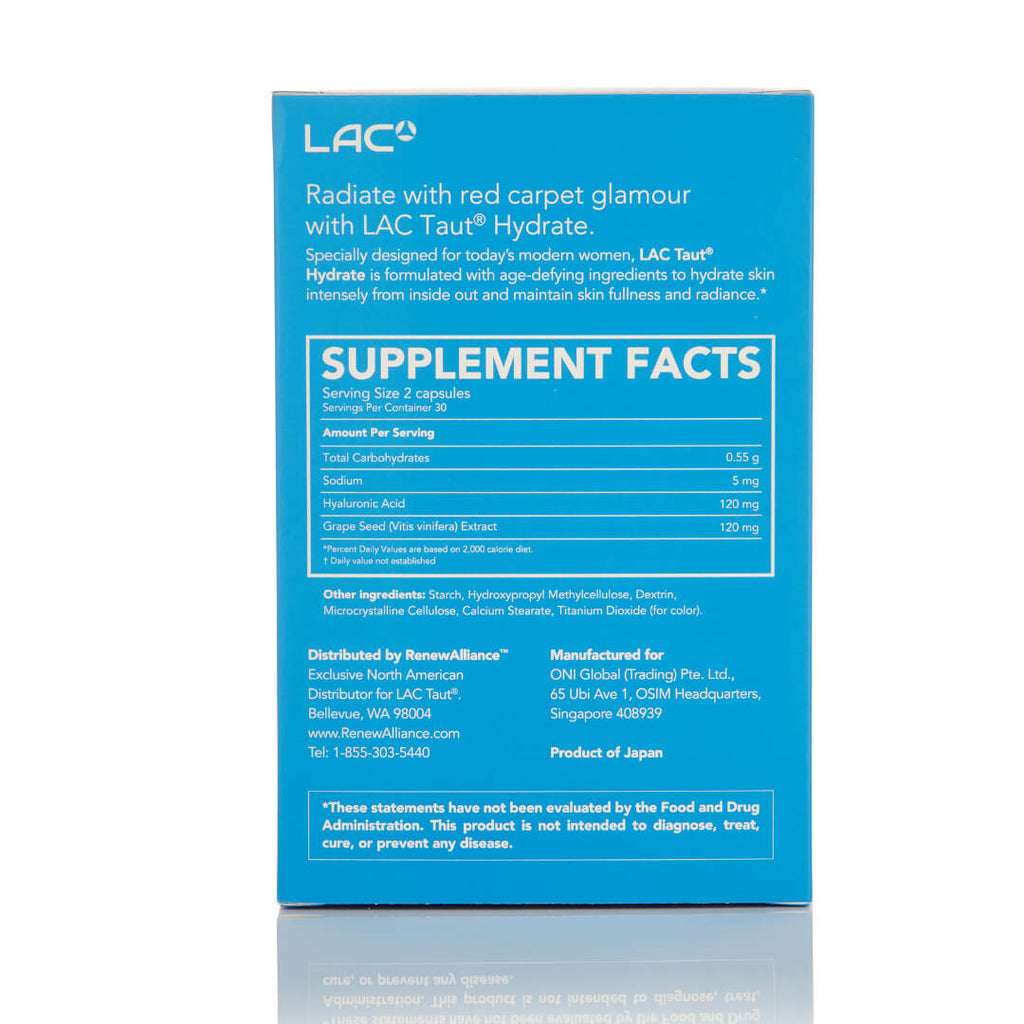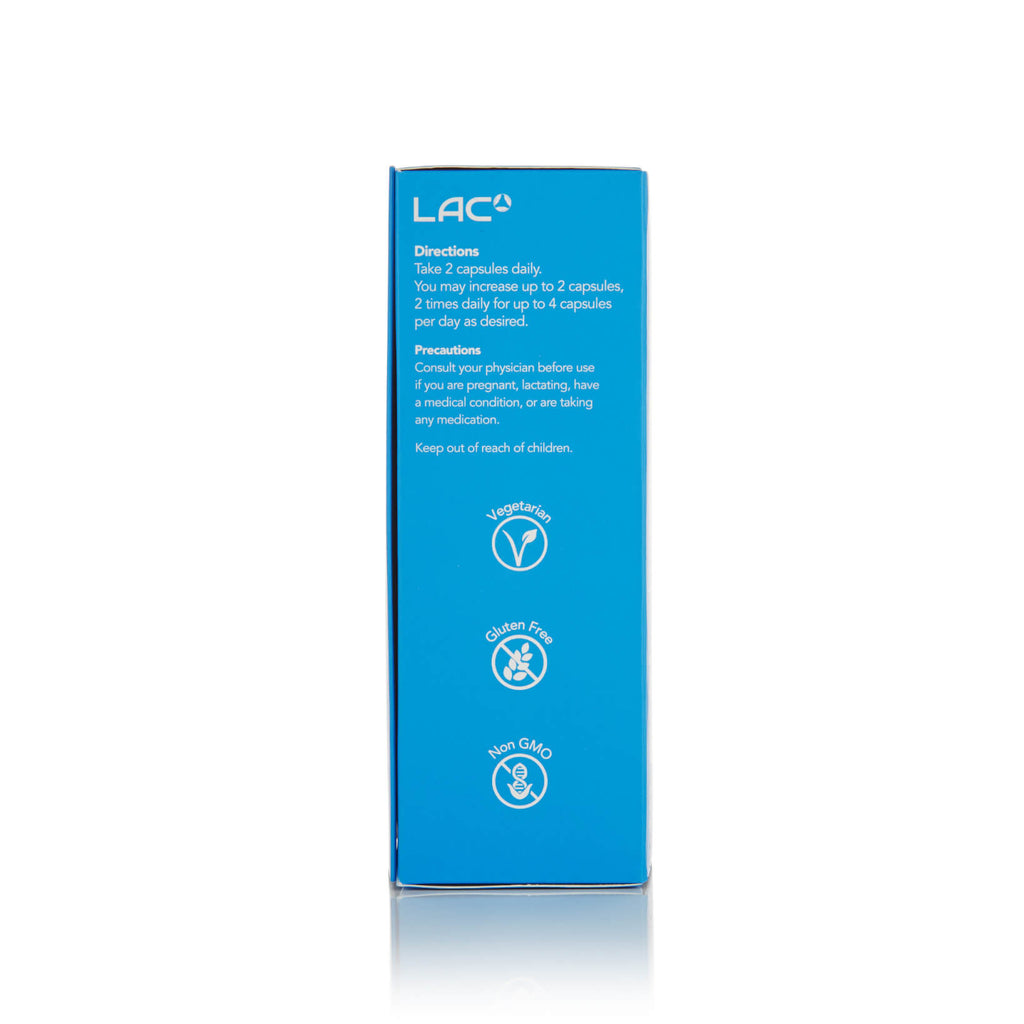 Taut® Hydrate: Hyaluronic Acid Pills & Vegan Supplement
Fuller and Glowing Skin
Plump and Glow! Now you can get the glamorous glowing skin movie stars are famous for without any needles.
Designed to work on your body and not just your face, the duo combination of high-potency plant-based Hyaluronic Acid and Grape Seed Extract work synergistically to plump and super-hydrate your skin, improve firmness, smoothness and visibly reduce signs of skin imperfections. 
Perfect for dry, dull, dehydrated, sunken and uneven skin. 
Additional Info
 

Taut® Hydrate plant-derived Hyaluronic Acid Pills (HA) works like a super moisture magnet. It will fill, hydrate and plump up your skin from deep within, where hyaluronic acid serums and fillers cannot penetrate. Grape Seed Extract helps to protect your skin from free radical damage, reduces skin imperfections and gives you the amazing glow you're seeking.

Hyaluronic acid also fills out the free spaces between the collagen and elastin fibers to keep collagen flexible (on its own, collagen doesn't have much stretch). HA acts as a nourishing agent to keep collagen limber and pliable.

Hyaluronic acid (HA) is found naturally throughout the body, with the highest concentrations in the joints, eyes, and skin. In the skin, hyaluronic acid is the super moisture magnet that attracts water by 1,000 times its weight, which allows the skin to become more hydrated, full and plump.

Most of us know that as we age, we lose collagen and elastin; unfortunately, the level of hyaluronic acid also diminishes, particularly after age 40.  The fat, muscles, bone, and skin in our face begins to thin.

As HA becomes less abundant in the skin, it leads to dry skin and wrinkle formation. This loss of volume also gives a sunken or sagging appearance on the face and hands, fine lines, wrinkles, folds, and thin lips.

Replenishing your skin hyaluronic acid naturally from within can help combat against moisture loss, aging skin and keep skin full, plump, moist and radiant.

 

What Do You See?

Skin looks fuller and plump*
Smoothed out fine lines and wrinkles*
Skin feels hydrated and moist*
Increased moisture, suppleness and radiance*
Reduced hyper-pigmentation*

*Individual results may vary.

 

Good To Know

Our professional skin care products are 100% Vegan. Preservative Free. Gluten Free. Non-GMO

Suitable for sensitive skin

*These products are not intended to diagnose, treat, cure, or prevent any disease. *These statements have not been evaluated by the Food and Drug Administration.

Taut® Hydrate

 

How and Why It Works



 

How 

Taut® Hydrate 

Works

Taut® Hydrate is formulated with clinically-proven plant-derived Hyaluronic Acid (HA) Hyabest (S) LF-P with 99% pure hyaluronic acid, and Grape Seed Extract, a powerful antioxidant, that work synergistically to protect skin from free radical damage and reduce pigmentation and skin imperfections.

Unlike other Hyaluronic Acid, which is produced from chicken crowns and used mainly for improving joint pain, Taut® Hydrate Hyabest(S) is produced by a proprietary fermentation method (non-animal source) with high purity and low molecular weight optimal for skin rejuvenation and hydration.

Effectiveness of Hyaluronic Acid has been demonstrated in many clinical studies. Hyabest's clinical trial show ingesting 120mg HA supplement daily for 3-6 weeks helps to significantly increase skin moisture content in the skin, which can help to smooth out wrinkles and slow down skin aging. 

 

Why It

 is Effective

Hyaluronic Acid has been used in derma injections and fillers in the doctor's office to add fullness, plump and lift sagging skin and smooth out lines and wrinkles. However, hyaluronic acid injections can only target specific areas of the face and hands, and does not work throughout your whole face and body. Facial serums  containing hyaluronic acids and hyaluronic serum can only provide surface hydration work and not able to penetrate deeper into the skin dermis.

There are different forms of hyaluronic acid. The most effective versions are the ones with molecular size small enough to penetrate the skin dermis with highest bio-availability and improve skin health. Hyabest HA-S has the molecular size most optimal for skin rejuvenation.

Taut® Hydrate Hyabest HA(S) with Grape Seed Extract is designed as a natural alternative to derma and fillers to prevent skin aging by nourishing your skin from within. 

The result is providing the moisture, suppleness, and protection needed to turn back your body's aging clock and promote fuller and radiant skin. 

 

 

Taut® Hydrate 

Ingredients

100% Vegan. Gluten Free. 

If pregnant or breastfeeding, please check with your healthcare professional.

* This product are not intended to diagnose, treat, cure, or prevent any disease. 

 

Hyaluronic Acid (120mg)

Made from a plant source, this powerful 'moisture magnet' has the ability to hold more water than any other polymer and thus can improve our skin moisture content and also strengthen the epidermis.

Deeply hydrates and nourishes skin from within to reveal more moisturized, luminous and supple skin.

Grape Seed Extract (120mg)

Nature's powerful OPCs and bio-flavonoids help protect skin and skin collagen from free radicals formed at the cellular level.

Promotes healthy luminous skin.

 

How to Use

 Taut® Hydrate 

For First Time Users and For Most Visible Results:

Take 2 capsules daily for 4-8 weeks

 

How to complement with Taut® Collagen and other Taut

® 

supplements:

You can take Taut® Hydrate together with Taut® Bright, Taut® Collagen Advanced Formula Drink and Taut® Collagen Powder.

Storage:

Taut can be stored at room temperature or refrigerated. 

 

Frequently Asked Questions

What is liquid collagen good for?

Liquid collagen is a highly absorbable form of collagen that supports various tissues in the body. In addition to supporting the joints, hair, and nails, this form of collagen drink will leave you with a beautiful, youthful complexion as long as you consume the correct potency.

At Taut, we pride ourselves in creating the highest potency liquid collagen free of harmful additives and chemicals. Our hydrolyzed collagen peptides target the areas of your body that need it most so that you can achieve red carpet radiance in no time.

Do I need to consume Taut Premium Liquid Collagen every day?

For first time users and to achieve optimal results, we recommend consuming Taut collagen supplements every day for the first 21 days to promote internal collagen production in your dermis. Once you start seeing results, you may switch to drinking Taut's dietary supplements every other day or 3-4 times a week.

What kind of results will I see and how soon?

How soon and how much of a difference you will see depends on your age, and the condition of your dermis. Collagen naturally decreases with age and this decrease is the primary cause of aging skin, among other medical conditions. However, taking a collagen drink supplement daily can support skin elasticity, suppleness, and volume by penetrating the deep dermal layers. In fact, many of our customers have noticed a softer, fuller, smoother, more radiant complexion within just 2-4 weeks as well as thicker, shinier hair, and increased nail growth and strength. Many have also reported seeing reduced fine lines and reduced crepeyness.

Additionally, many of our satisfied customers have noticed a reduction in dry patches on both their faces and bodies as well as a reduction in pillow creases on their dermis. Others have found that their joint pain from rheumatoid arthritis or TMJ has virtually disappeared from taking our oral collagen supplements. How soon and how much of a difference you will see from oral supplementation depends on your age and the condition of your complexion.

I am only in my 20's. Can I drink Taut Liquid Collagen Advanced Formula?

Some experts believe that aging occurs from the age of 30, however, prevention is always better than treatment. With this in mind, yes, you can start collagen supplementation early if you want to get a head start on combatting the early signs of aging. We generally recommend our younger customers take Taut Premium Collagen Powder, as each serving (2 sachets = 3,000mg marine collagen with 2 active ingredients) is sufficient for your age group.

Is Taut Premium Collagen suitable for all skin types and ages?

Taut's age-defying liquid collagen drinks are suitable for adults concerned with aging, scars, and the damaging effects of pollution and the sun. Collagen makes up a huge proportion of our dermis, regardless of your skin type. As a result, it is suitable for just about anyone! While best known for its ability to improve tone and texture, Taut is also consumed by many to help with joint and neck pain as collagen proteins are believed to support connective tissues by supporting the body's supply of collagen. Taut also supports hair and nail growth.

Do I need to keep drinking Taut's collagen liquid supplement every day after the initial 3 or 5 weeks?

No, you don't. As everyone's complexion, expectations, and budgets are different, you can switch to 'maintenance mode', drinking this essential super beauty nutrient every other day if you prefer. Alternatively, you can drink this liquid form of collagen 3 to 4 times a week after drinking every day for the initial 3 to 6 weeks. 

Can I continue taking collagen every day if I want to? Are there any side effects?

Yes, you can drink Taut Collagen every day to enjoy the beneficial effects of our broad-spectrum protein-rich drink.  There are no known side effects to the long-term consumption of these dietary supplements. Some people have reported a bad taste in their mouth when consuming collagen, however, our liquid collagen skin revitalization drink is specifically designed to taste like a rich orange drink. No fishy aftertaste!

Please note that allergic reactions can occur in those with allergies to fish products.

Can I drink Taut Premium Collagen at room temperature, or does it require refrigeration?

Taut Premium Collagen may be consumed at room temperature or chilled – or even served over ice made of purified water. It tastes great either way!  We recommend storing our product in a cool, dry place; do not freeze.

When is the best time to drink my Taut Premium Collagen? Will this upset my stomach?

We usually recommend drinking our concentrated liquid tube before bedtime on an empty stomach to allow for maximum absorption overnight while your body is in its repair state. You can consume liquid directly from the bottle.

For those with sensitivities, you may experience a slight upset stomach. With this in mind, you can try drinking one concentrated liquid tube diluted in a half glass of water, over ice, or even first thing in the morning, at least 30 minutes before having any coffee and breakfast. For best results and to prevent getting an upset stomach, please do not exceed recommended daily intake of our collagen supplements.

How does it taste?

Each bottle contains 7.5% real orange juice, so it has a refreshing orange taste. Our customers are usually surprised that our liquid collagen skin revitalization supplement tastes very good, natural, with no after taste. Individual servings of Taut Premium Collagen are sealed in sterile, tinted glass bottles to maintain maximum freshness.

How is it packaged?

Each bottle is tinted glass and sealed to preserve quality and freshness. Each box contains 8 glass bottles and weighs 2.7 pounds.

Is liquid collagen safe?

The Food and Drug Administration (FDA) classifies ingestible collagen as Generally Recognized As Safe (GRAS). Taut Premium Collagen is manufactured in Japan by a publicly-listed company that is a leading manufacturer of food products and ingredients in accordance with stringent GMP (good manufacturing practices).
 Each ingredient in Taut Premium Collagen and each production batch of Taut is tested and certified safe by an independent standards organization in Japan.
 Even Taut's actual product packaging is made of sealed, tinted glass bottles for optimal sterility and integrity. 

Where is the fish from? Is there any risk of radiation or mercury?

The red snapper used to produce our collagen is wild-caught in the deep Indian Ocean off the coast of Thailand, Vietnam, and Indonesia. 
Our manufacturing location in Japan is near the south of Tokyo, approximately 300 miles from Fukushima.
 Unlike other supplement companies, every batch of Taut Premium Collagen is produced under strict Good Manufacturing Practices (GMP) and is tested by an independent government agency for radiation as well as for heavy metals. Our products are free of allergens and chemicals, making them fantastic for the human skin.

What type of collagen is in Taut Premium Collagen?

Not all collagen is created equal. In fact, there are 28 types of collagen in the body.  The collagen in our dermis layer is 80% Type I and 10% Type III.
 Taut Premium Collagen is 90% Type I and 10% Type III, providing the highest quality and effectiveness out of the 28 types of collagen. Our formula is specifically designed to improve skin tone while also having a positive effect on your joints, nails, and hair.

Are there any other animal proteins in Taut's Collagen Supplements?

Taut Premium Collagen Advanced Formula is 100% marine and plant-based, and only contains fish and no other animal protein. It is rich in vitamins C and B6 as well as grape seed extract for its ability to fight off free radicals. Another important element within our collagen is hyaluronic acid. Hyaluronic acid helps retain moisture in the dermis, filling in fine lines, and reducing the early signs of aging. Our proprietary blend helps improve skin tone, supports hair and nail health, and will provide you with a youthful, radiant complexion for years to come.

Who should not consume Taut's Liquid Collagen Skin Revitalization Drink?

This complex protein makes up a huge proportion of our dermis and connective tissues, making it safe for almost everyone. However, if pregnant, breastfeeding, or allergic to fish and soy, please check with your healthcare professional. (Taut® Collagen does NOT contain seafood; it contains fish-derived ingredients). The ceramide in our formula contains lecithin, which is derived from soybeans.

You may also like:

Fairer Flawless Luminous Skin

Firmer Youthful Radiant Skin

Firmer Skin with a Youthful Radiance

Not sure which program is right for you?

Take Our Skin Care Quiz For Expert Recommendations

HELLO BEAUTIFUL!

Would You Like a Limited Time 25% Off Your First Order?

*Offer valid with your first order*

HOW EXCITING!

We're going to send you a personal discount code to use at checkout. Where should we send it to?

WONDERFUL!

Your code is on its way to you. Check your inbox and add us to your contacts to make sure you receive your personalized tips and offers.