Premium Collagen Drink
The Most Advanced Anti-Aging Collagen Formula Today. "A great tasting anti-aging miracle in a bottle" - NewBeauty Magazine
See Anti-Aging Programs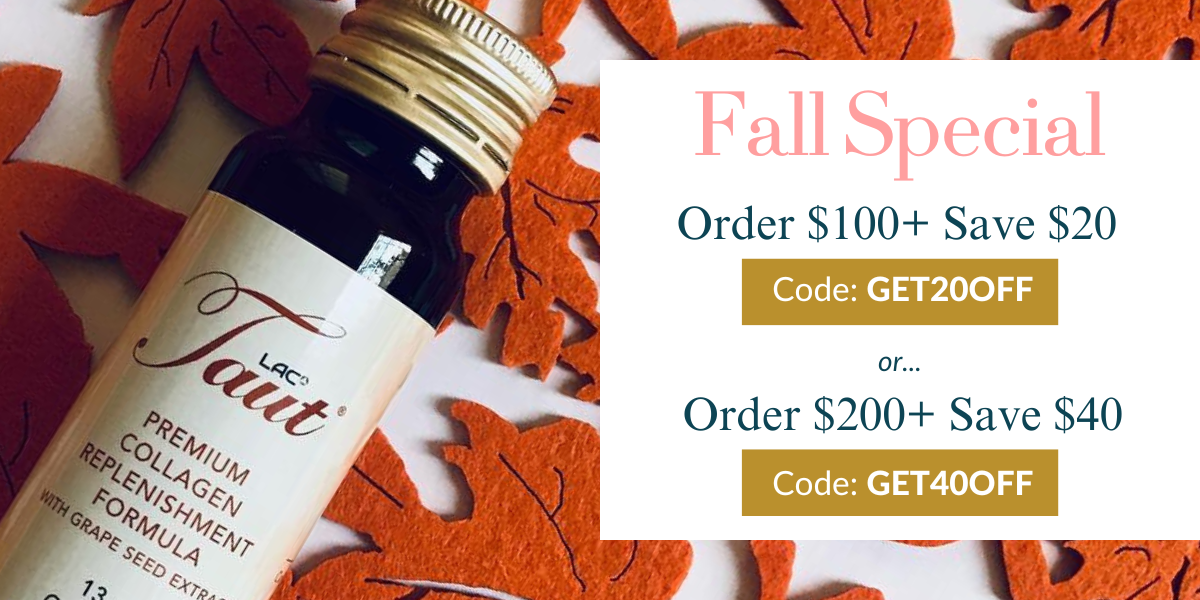 Say "Bye Bye" To Wrinkles and Sagging Skin With Taut® Premium Collagen Drink

#1 Most luxurious and effective collagen program with proven results.
Visibly reduces fine lines, wrinkles, sagging skin, and promotes firmer, fuller, youthful skin.*
* * * * *
Rated as the best collagen supplement for skin and here's why:
Each 1.7 oz glass bottle contains 13,000mg Premium Marine Collagen Peptides (2-6x more than other brands) with 6 active ingredients that are the most effective for maximum skin rejuvenation with faster visible results.
Taut Premium Collagen Advanced Formula, now with Grape Seed Extract promotes skin healing and extra protection from free radical damage.
Drink every day and look years younger in as little as 21 days.*
Reviews
What Customers Say About Taut®
Taut is the Best Collagen Around
I have been using different collagens, but I haven't found one yet to come close to Taut. The results I have seen & the compliments I get are amazing.
- Wendy T
I See a Difference In Just Two Weeks!
Starting to see the fine lines disappear and my skin is glowing. Nails are finally getting strong too.
- Rickee T.
Love this Product
I have noticed my skin clear from dark spots simply by using this product consistently for the past 5 months. I owe it all to the liquid collagen. My skin is glowing and looks fresh and no more concealer to cover my dark spots!
- Lynette R.
Collagen Drink and Powder!
These are excellent qualitied healthy products that make skin soft and moisturizers. The flavor of collagen powder tastes like fresh food. Like them!
- Belinda T.
Delicious and Magical All at Once!
Could not live without it! been using it daily for a few years now and the results are just outstanding!
Highly recommends
- Valerie B.
The Best Results Ever. Excellent!!!
- Luciana B.
Miracle In a Bottle
I noticed a difference in just a few days.
- Gretchen w
Glowing skin
I have never used such an amazing product! Literally hydrates my skin from inside out . I'm not wasting money anymore on topical products that don't fix the wrinkles or dry issues skin was having
- Jennifer H.
Taut is the Real Deal!
I have been using the collagen drink, pine bark tablets for awhile now. I have to admit that even one small bottle before bed really makes a marked difference in the clarity of my skin, smaller pores and "plumped" volume to my cheeks.
- Gloria E.
Best Selling Transformation Programs
Collection
Taut® Transformation Programs
Transform your skin in as little as 21 days and look years younger.
Especially curated for you, our transformation programs contain 3 boxes of Taut® Premium Collagen Advanced Drinks to super-charge your skin collagen, and bundled with other Taut® products into a simple, effective & valuable system (save up to $80) to address your other skin care concerns.
Most effective for reversing signs of aging, and promoting fuller, younger-looking skin with visibly reduced fine lines, wrinkles, pigmentation, and acne scars.*
Perfect for a first timer user and for on-going maintenance users, who desire faster, visible, & amazing results.
The Essential Bestsellers
Collection
The Essentials
Wake Up To Beautiful Skin Everyday.
Simplify your skin care routines with our Essential Collections that include our signature best seller Taut Premium Collagen Advanced Drinks, Taut Beauty Supplements, and Taut Skin Care.
Each product is designed to prevent and protect against signs of aging and support youthful, healthy, beautiful skin from the inside out and outside in.
Perfect for 20+ or for anyone who desires to explore all of our products. Select and design your own programs that meet your skin care needs.  
Why & How
Everything You Need to Know
About Collagen Peptides. How and Why It Works.
Follow us on Instagram
#TautTransformations
Share your favorite products