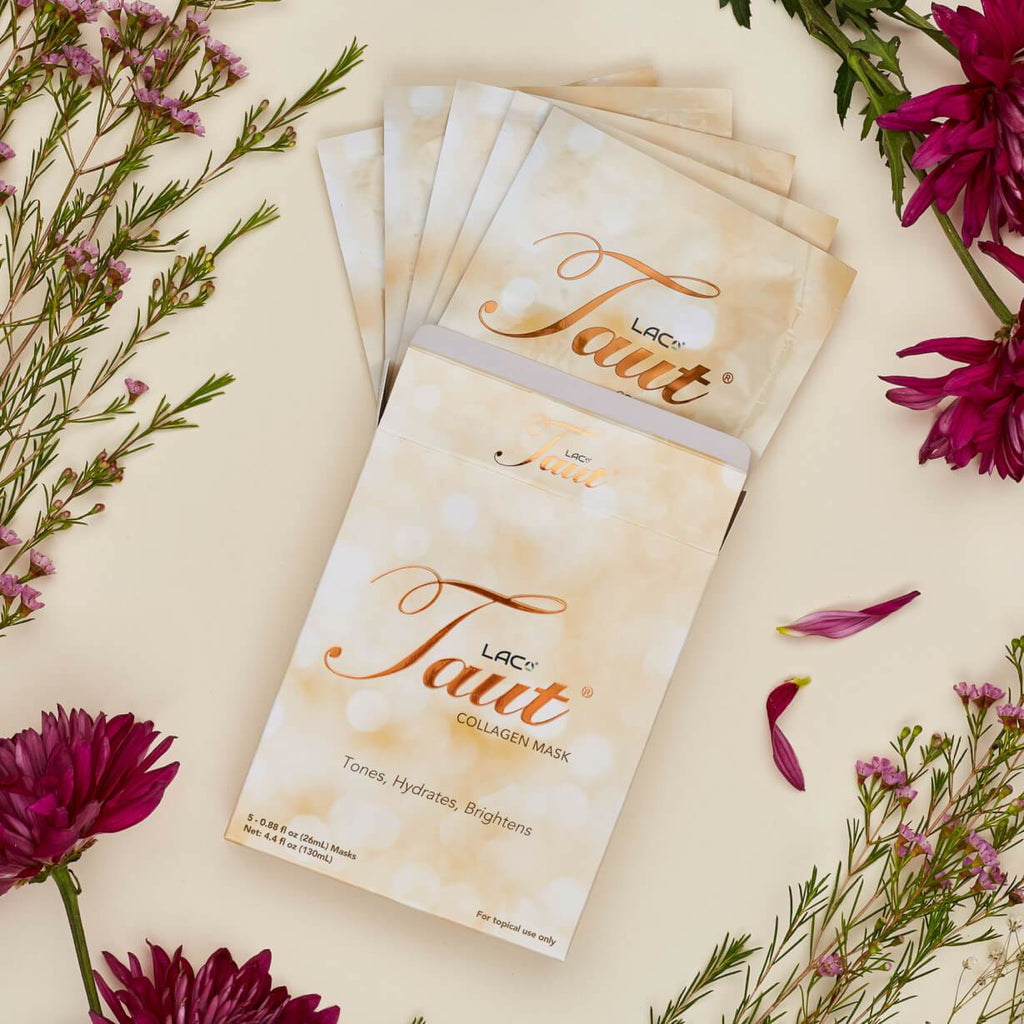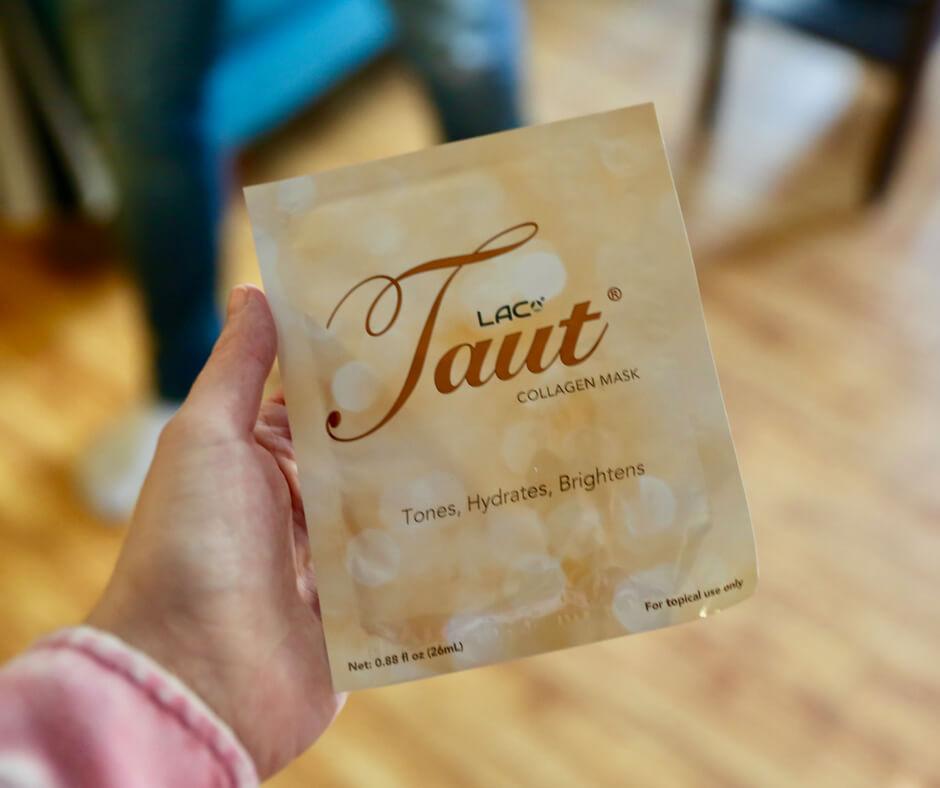 Taut® Collagen Mask [5 Sheets]
Tone Hydrate Brighten
Our luxurious Collagen Peptide Infused Mask is specifically formulated to target sagging, dehydrated and dull-looking skin. 
Tones, Hydrates and Brightens Your Skin. Delivers instant skin rejuvenation and 'red carpet' radiance in just 15-20 mins.
Each box Includes:
5 Sheets Collagen Infusion Sheet Mask
Additional Info
 

What It Does

It's not uncommon to find your skin dehydrated and dull from stress, fatigue, exposure to pollutants, free radical damage or having too much sun. Also, your skin could be showing signs of aging from loss of collagen and hyaluronic acid.

Developed for serious skin care, our Taut Collagen Infusion Mask is designed to rejuvenate your skin with  hydrolyzed collagen, hyaluronic acid, botanical squalene and vitamin C, that work synergistically to tone, hydrate, and brighten your skin in just 15-20 minutes. There is no need to use moisturizer or serum after applying our collagen mask. 

Each sheet mask is infused with rich collagen essence and is very cooling and smoothing. Also, our mask can be used after micro-needling, micro-dermabrasion, or to help heal facial wounds.

Experience 'red carpet' radiance in minutes!

 

 

What Do You See?

Hydrated, moist and brighter skin*
Instant radiance and glow*
Calming and soothing*

*Individual results may vary.

 

Taut® Collagen Mask

How and Why It Works



 

How 

Taut® Collagen Mask 

Works

Developed in Japan, Taut® Collagen Mask's proprietary formula is designed for anyone who desires a brighter tone and glowing, radiant skin. 

Our hydrolyzed collagen is broken down into tiny nano-sized molecules (average size 280 Daltons) that are small enough to penetrate through your skin's pores into the dermis layer to give your face an instant collagen boost and rejuvenation.

Each mask is infused with hydrolyzed collagen, hyaluronic acid, squalene (from olives), and Vitamin C to help hydrate, provide added moisture, smooth fine lines and wrinkles, and brighten your skin. 

 

Taut® Collagen Mask Ingredients

 

 

Hydrolyzed Marine Collagen

Our hydrolyzed collagen is broken down into tiny nano-sized molecules (500 Daltons) that will penetrate through your pores into the dermis layer of your skin to give your skin instant collagen boost and rejuvenation.

Hyaluronic Acid

Made from a plant source, this powerful 'moisture magnet' has the ability to hold more water than any other polymer and thus can improve our skin moisture content and also strengthen the epidermis.

Deeply hydrates and nourishes skin from within to reveal more moisturized, luminous and supple skin.

Squalene from Olives

It's considered to be the miracle natural skin moisturizer that can help restore our skin's natural oil.

Studies show it has powerful antioxidant properties that can help hydrate and soften skin, lessen the appearance of fine lines and wrinkles, and prevent UV damage from the sun and minimize formation of age spots.

Does not clog pores and is clinically proven to be non-irritating to sensitive skin.

Vitamin C

Co-Factor of Collagen

This "wonder supplement" is an essential co-factor to support the body's production of collagen.

Stimulates collagen production.

Helps heal wounds.

How to Use

Taut® Collagen Mask

 

Taut® 

Collagen Mask

Apply mask to clean, dry face and tap gently to smooth into place on skin.  Mask is wet but not drippy.
Leave mask in place for 15-20 minutes.  Read, watch TV or just relax.
Peel off mask and discard, then gently rub face with fingertips to complete absorption of collagen-enriched essence.
Continue massaging extra remaining essence into neck and décolleté.  No need to wash off.
No need to apply any moisturizer, cream or serum after removing mask.  Do not wash your face after removing mask.

Mask is single use only.

 

Frequently Asked Questions

Do I need to apply cream or serum after using the mask?

No. You do need need it apply any cream, serum or moisturizer after using our mask.  As a matter of fact, we recommend rubbing the remaining collagen essence into your skin after use, and there is no need to wash off.  This will allow the collagen essence to penetrate into your skin overnight.

Is it O.K. for people with sensitive skin?

Yes. It is good for even the most sensitive skin.  However, please check the ingredients to ensure you are not sensitive to any of the ingredients in our mask.

How often should I use the mask to see results?

It depends on your skin condition. For very dry, dull skin, we recommend at least 2 - 3 times a week to start. You may switch to weekly after.

 

You may also like:

Look and Feel Years Younger

Firmer Youthful Radiant Skin + Bye Bye Dark Spots

Not sure which program is right for you?

Take Our Skin Care Quiz For Expert Recommendations

HELLO BEAUTIFUL!

Would You Like a Limited Time 25% Off Your First Order?

*Offer valid with your first order*

HOW EXCITING!

We're going to send you a personal discount code to use at checkout. Where should we send it to?

WONDERFUL!

Your code is on its way to you. Check your inbox and add us to your contacts to make sure you receive your personalized tips and offers.